Why Ballet?
Ballet is a dynamic, organic art form. It builds strength, develops body alignment, promotes resiliency, and develops grace, poise and character. Ballet is a structured system of body awareness and an activity that will promote health and well-being for a life-time.
Why Dance Island?
Dance Island is close by in the Recreation Centers. Our very reasonable tuition is for unlimited classes~ two classes Ballet 1 and two Ballet 2-3 classes on Friday and Saturday for busy students and up to three classes per week for Creative Movement for little one just starting their explorations in dance and ballet.
The Delight of Dance
Here are a couple of videos that show the Delight of Dance at Dance Island. 
"Wouldn't It Be Loverly" from My Fair Lady
Our Summer Accelerated Ballet Program students went outside. They took their "Loverly" dance from My Fair Lady down to the Civic Center area in Honolulu.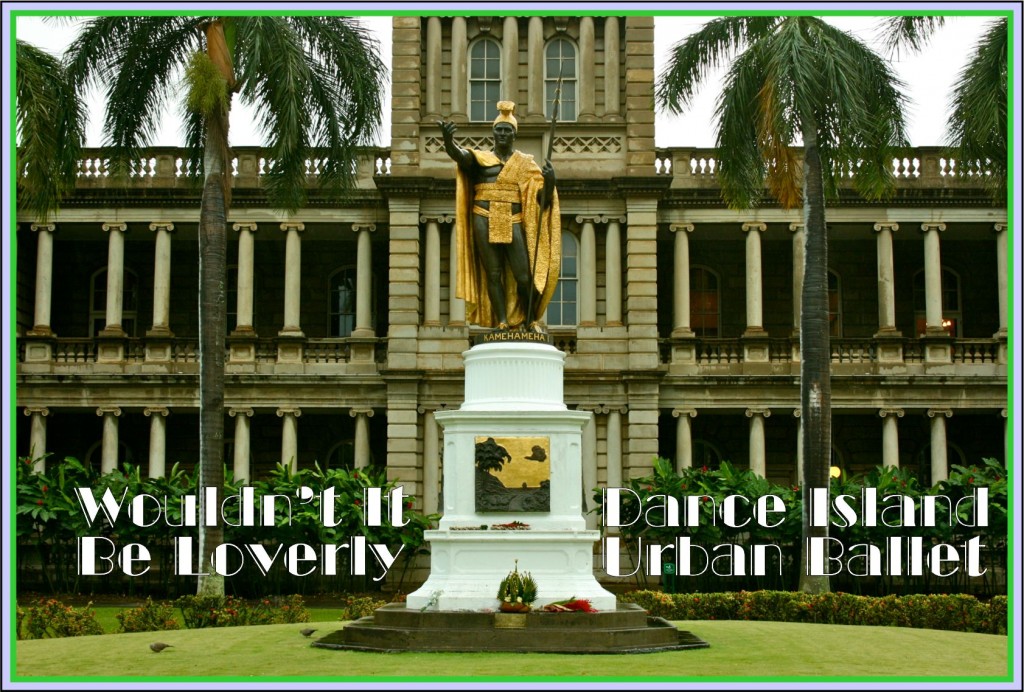 Click here to watch the "Loverly" dance video on YouTube.
Our Summer Accelerated Ballet Program students have also choreographed a large number of original ballets. The little ballet below is
A Precious Delight
. Click on the video's arrow if you want to watch in our website. Click on the link below the video if you want a full screen.
https://www.youtube.com/watch?v=q-AYTOnOLKU&feature=youtu.be
A Precious Delight
There are three video links below that show the excitement of the "At the Ballet" performance.  The show was at the Pearl City Cultural Center.
https://www.youtube.com/watch?v=iJtn_GbzYu4
https://www.youtube.com/watch?v=U7Y7d5y8pww&feature=related
https://www.youtube.com/watch?v=s2zM3PMs-PY
At the Ballet 1
At the Ballet 2
At the Ballet 3
Or you can click on this other video link below and take a look back stage at Ala Moana's CenterStage.  This performance of Annie and Katrina and the Wolf (our version of Peter and the Wolf) was a hit!
https://www.youtube.com/watch?v=QtSxr4XQ6qQ
Ala Moana CenterStage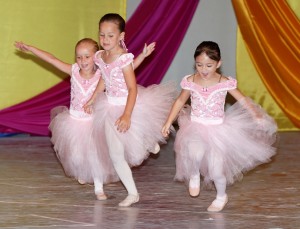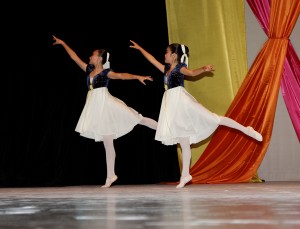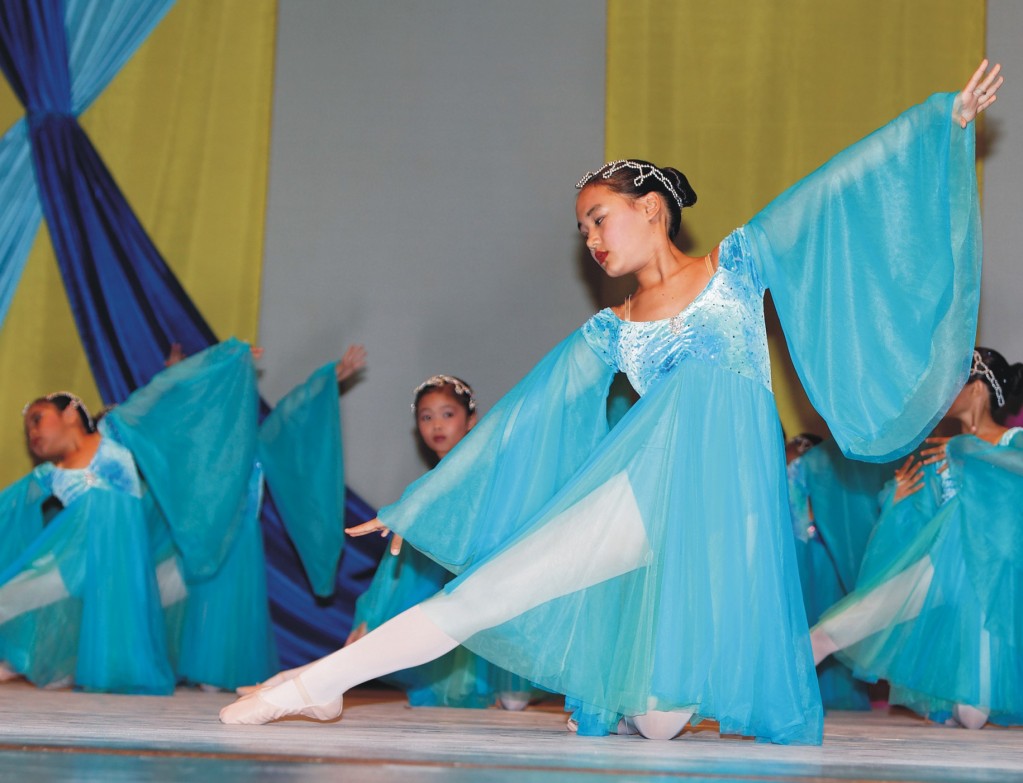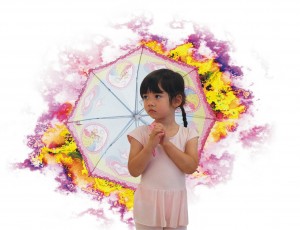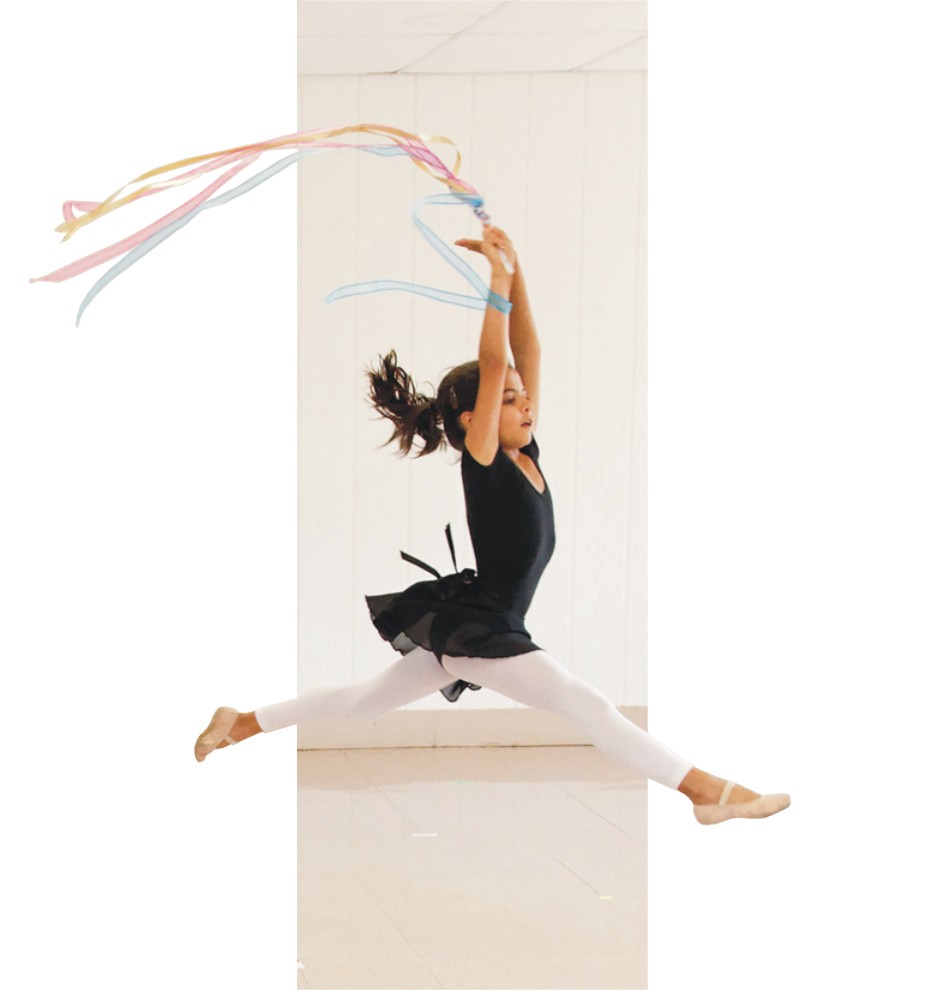 Creative Movement and ballet both provide our keiki with opportunities to gain control of their bodies, explore expression and creativity, and find delight in their own imaginings. For Dance Island parents the connection between movement and healthy child development is obvious. There is great delight and joy we all take in developmental milestones such as that first wonderful time your baby smiles up at you, rolls over by themselves, sits up, takes their first halting independent step, and the first time they run, skip, and finally dance.
One Final Note on Today's Ballet
Today's ballet dancers need to develop the ability to improvise. In the past, modern dancers excelled in choreographic spontaneity, while ballet dancers often felt self-conscious, resistant, and inhibited. In the past, ballet dancers were not asked to contribute ideas; they were usually told what steps to do. Steps were either technically correct or incorrect and ballet dancers judged themselves as being technically right or wrong. This numbed creativity and imagination. It also limited the ability to see a wider range of possibilities. At some point in today's audition process, most directors will ask for an improvisation. They do not necessarily expect dancers to be excellent improvisers. They do, however, look for more mature ballet dancers who can "Go for it!" with an open mind and hungry heart. In traditional classes of the past, teachers gave set phrases, and students then repeated and reverse them, and maybe changed, and adjusted tempos. That is still good. Ballet dancers need a structured barre, a center adagio, and choreographed combinations from the corner. At the same time, the teacher also needs to provide structured opportunities for improv and exploration. So, how do current ballet dancers living in this new environment of ballet learn to improvise? The same way they learn everything else~ They practice! As a result, today's ballet teachers have students investigate new ways of fragmenting and isolating different parts of the body, extending limbs beyond their natural reach, dancing to new music from Cirque du Soleil to African drums, Broadway musicals to twelve-bar blues, tap dance standards to orchestrated Beatles cover songs, and everything else in between. As Danielle Agami, a contemporary dancer from Seattle, has noted, today's ballet dancers need to adopt a more questioning philosophy. She says, "It's hard because ballet has a specific aesthetic, but it is ok not to be sure and just explore possibilities. You have to practice letting go with your brain and improving the connection between your mind and body." Thus, today's ballet teachers continue teaching technical basics at the barre. They know that technique is absolutely essential. At the same time, they allow class time for infusing dance with a sense of extemporaneous delight. Improvisation in dance is still guided by principles of establishing beginning and end points, structural and spatial boundaries, predetermined limitations and coherence. Still, improvisation can focus on deeper ways of comprehending. It can discover concealed thoughts and feelings. As today's ballet dancers grow to find their own artistic vision, the instinctual, unpredictable, free movement of improvisation can make that vision more authentic and inspired.