Suggested Hawaii State Library Ballet Videos and Books
(This page is under construction but the links to library videos and the embedded videos work.) Our State of Hawaii Library system makes it easy to check out ballet DVDs.  You can request that a ballet DVD (or any other library resource) be sent to the library closest to where you live.  And they will even send you a post card letting you know when the DVD is ready for pick up! Each video below has a link.     1.  Click on the link    2.  Check out the description    3.  When you click on "Request Item"          this dialog box will come on the screen.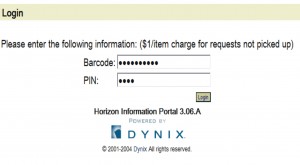 4.  Type in your 10 digit library card number          in "Barcode"*    5.  Under your library card number, in PIN,          type in the last four numbers of the          telephone number the library has          file for you.
*Your library card has a number under the bar code on the front.
 
 

Videos

 

Ballet Favorites

This DVD features The Nutcracker Giselle, Sleeping Beauty, and Romeo and Juliet featuring Alessandra Ferri. There's a link in our YouTube videos section to Alessandra Ferri in Romeo and Juliet. Don Quixote features Mikhail Baryshnikov and Cynthia Harvey. Click here to check out "Ballet Favorites" from Hawaii's library.

Stars of Russian Ballet

The best part of this 3-part ballet film is  Tchaikovsky's Swan Lake choreographed by Petipa. Marius Ivanovich Petipa, born in 1818 was a ballet dancer, teacher, and choreographer. He has been cited nearly unanimously as one of the most influential balletmasters and choreographers that has ever lived.  Click on "http" in the link below to get a copy of the video from the Kaimuki branch of the library. Click here to reserve the video Stars of the Russian Ballet

Bringing Balanchine Back

This DVD follows the NYCB, the New York City Ballet, led by Peter Martins, to the Mariinsky Theater in Saint Petersburg, Russia. This is where ballet legend and NYCB co-founder George Balanchine took his first ballet steps. The video is narrated by Kevin Kline. Click on "http" in the link below to reserve the video. The Mililani branch of the library has a copy. Click here to reserve this inside look at what it is like to be in a touring ballet company dancing Balanchine choreography
Our State Library has several videos that highlight George Balanchine's choreography. His body of over 450 choreographic works established him as one of the foremost choreographer of the 20th century. The DVD, "Balanchine- the Father of American Ballet," traces his life from the Mariinsky Theater (that's the theatre they went to in the DVD above, "Bring Balanchine Back"), through his work for Hollywood and Broadway, to his ultimate creation of the renowned New York City Ballet. the DVD also focuses on the themes of his work and his thoughts on dance. The DVD selections including Chaconne, Agon, Symphony in C, Serenade, Apollo, and A Midsummer Night's Dream.  Click here to reserve "Balanchine-- the Father of American Ballet" or click here to reserve a copy of "Choreography by Balachine." The ballets in this second DVD were danced by the New York City Ballet in 1977.  They were first broadcast on TV in 1978 and then on VHS tapes in 1995-1996. The original broadcasts spread the word about ballet and about George Balanchine's style of ballet. Everyone know much more today about ballet, so this re-release now shows us both what ballet once was, and also how it is supposed to be. From "Tzigane" with music by Ravel to Mozart's "Andante from Divertimento," from Tchaikovsky to Stravinsky, and from solos to ensemble pieces, this video is a delight.
 
 

Born to be Wild

The skill, strength and artistry of male dancers at the American Ballet Theatre (ABT) is unprecedented. The video "Born to be Wild" explores the personal backgrounds and formal training of four ABT male dancers-- Jose Manuel Carreño, Angel Corella, Vladimir Malakhov, and Ethan Stiefel.  The program ends the four dancers together in a work by choreographer Mark Morris. Click on the link below for a preview of dance from "Born to be Wild." Click here to watch a YouTube preview of "Born to be Wild" And if you want to see Ethan StiefeL in a Hollywood movie, take a look at this clip (the final production number) from "Center Stage."  Click on the text "Watch on YouTube" in the lower right corner of the picture below Click here to reserve a copy of Born to be Wild from the Hawaii State Library and see four of ABT's leading men soar
Or you can click on the link be- low. The link is to the library list of more than a dozen Nutcrackers.  One is by the Bolshoi.  One is by the  Royal Ballet. Click here to see the list. #3 is Mikhail Baryshnikov's. #4 is here at Mililani's library, Balanchine's Nutcracker is #5.
The Hawaii State Library system has over a dozen listings for the Nutracker Ballet. One of the better DVD's is the one featuring Mikhail Baryshnikov. Click here to reserve a copy. It is number three on the linked list over on the left. That is the case cover for the video straight across to the left. Here is a preview.
 
Are there videos you think we should include here? Email us at DanceIsle@aol.com with suggestions. We will probably not add Angelina Ballerina, but email us or talk to us or give us a note after class with your suggestions.
 
And, on this page that is under construction, do we have any typos, links that do not work, spelling errors, or errors of fact?  Ballet Dancers are always "a work in progress."  So, too, our little website is also a work in progress.
  Click on the link below to see this 5'2" icon of American dance. Click here to reserve the video. Watch Dancer's World. Then, you be the judge.Do her dancers move and dance at the barre the way we do in BALLET?
Martha Graham's career as a dancer and choreographer spanned more than 70 years. She was an important figure and an innovator of dance in the 20th century. This video is a digital restoration.  It's crisp, digital gray-scale tones are not like most old black and white films. The two disc video is a compilation of pivotal works by Graham and her dance company.  Each dance is about 30 minutes long. The first disc starts with "Dancere's Worlrd." Its choreography might be called "modern dance," but it is done in a ballet studio, with ballet barres.  It is at the core,  simply as a matter of fact, BALLET.  Other dances go a little farther a field. Here is a sample from the video of what is usually thought of as moden dance (complete with mythological references), "Night Journey."  

Books:

In our Hawaii State Library system's Dewey Decimal Classification the 700's contain the arts and 792    is Stage presentations, 792    is Dance. More specifically  792.8 is Ballet. Below are 3 dictionary/terminology books that we use at Dance Island.

The Classic Ballet, Basic Technique and Terminology

by Muriel Stuart
Click here to reserve this detailed book.     This manual is clear and succinct. With nearly 600 drawings, it describes and illustrates in minute detail the proper body position, balance point, movement, and attitude of each position and step in the basic classical repertory. As George Balanchine wrote in its preface: "There are no shortcuts to great dancing" and this book is "an admirable... reference for the highest standard of practice."

Dictionary of Classical Ballet Terminology

by Rhonda Ryman
For students and teachers of classical ballet, this dictionary explains not only what each dance movement means, but how to do it and what it looks like. Each entry contains some or all of the following information: classical ballet term or composite term; phonetic alphabet pronunciation; simplified English alphabet pronunciation; part of speech and gender; and definition or description. Whenever possible, it provides variations of the terms used within the Royal Academy system and equivalent terms in the Cecchetti and Vaganova systems. The dictionary even includes everyday English terms such as side bend and sides step. Click here to reserve this dictionary.

Technical Manual and Dictionary of Classical Ballet 

  by Gail Grant  
From adagio to voyage, over 800 steps, move- ments, poses, and con- cepts are fully defined. A pronunciation guide and cross-references to alternate names for positions and similar steps make this com- prehensive dictionary of ballet a great place to start learning ballet terms and vocabulary. Click here to reserve Gail Grant's handy little ballet dictionary.