Ballet Choreographers on YouTube
(This page is Under Construction) If you are going to dance with power and grace with poise and grandeur, if you are going to dance any type of dance, you are going to need "just a little ballet."  Well, maybe more than  just a little.   

Most of the working dancers in Broadway shows, in the productions that come to the Blaisdell, on the television shows you watch, from the  Academy Awards to variety shows, are dancers who have studied

BALLET.

   When national touring companies from Lion King, Sesame Street, Ms. Saigon, and other shows  come to Honolulu, they stay at performance level by taking 

BALLET

classes from our local teachers, including Ms. Laura
. The choreographers that fashioned the dances in the videos below have rich and varied back- grounds, but they all share a knowledge of the most basic elemental part of dance, 

BALLET

.
Michael Kidd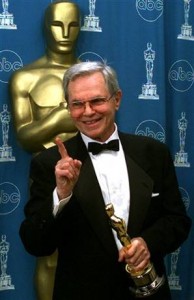 There is no Oscar for Choreography, so the Academy of Motion Picture Arts and Sciences presented Michael Kidd with a special award in 1997 for his "services in the art of the dance in the art of the screen." One of Michael Kidd's first dances was Billy the Kid, a ballet to the music of Aaron Copland, in 1939. A scholarship student at the School of American Ballet, he danced for Jerome Robbins in Interplay and Fancy Free and then won Tony Awards for Best Choreography for Finian's Rainbow in 1947, Guys and Dolls in 1950, Can-Can in 1953, Li'l Abner in 1956, Destry Rides Again in 1959, and Subways Are For Sleeping in 1961. He also choreographed Fred Astaire and Cyd Charisse in the celebrated Girl Hunt Ballet from musical film The Band Wagon.  The choreography in this YouTube video from the 1954 film Seven Brides for Seven Brothers is joyously energetic and athletic. Dancers may look like backwoodsmen; they may look like they are depicting ordinary frontier activities, but their dance is, in the end,

BALLET

.
There's gymnastic and tumbling work here, but, pas de deux lifts, tours en l'air, strong tendus and extensions, ballottés here and there, arabesques and attitudes, and over all elevation [ay-lay-va-SYAWN] height attained in springing athletic steps, in the end, define this dance as
BALLET
. (And yes, the red-headed youngest brother, Gideon, is Russ Tamblyn who would, 7 years later, play Riff in West Side Story) –see below In 1955, one year after "Seven Brides," the diminutive Michael Kidd danced with Gene Kelly and Dan Dailey in MGM's "It's Always Fair Weather." He proved he was as adept at kicking up his heels in front and as he was choreographing in that same rollicking style behind the camera. Click on the link below to see him in the well-known "Trash Can Dance."
Michael Kidd, Dan, and Gene
Gene Kelly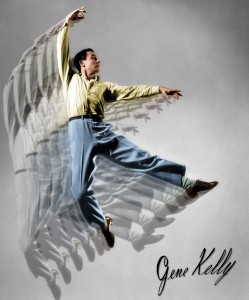 Gene Kelly could dance with "the boys" (and even with the "Chairman of the Board"), but as a ballet choreographer, he chose ballet dancers like Leslie Caron and Cyd Charisse. In the video below, Gene Kelly dances with the ingénue Leslie Caron in the 1951 film, "An American in Paris" winner of six Oscars, including Best Picture.  Caron, daughter of a dancer, was a working ballet dancer when she was only 16. She danced with the renowned Ballet de Champs Elysses in Paris. Three years later, at only 19, she danced in this classic musical.
(Insert "An American in Paris pas de deux here.)
Click on the link below to see Gene Kelly's statement that ballet can be have many moods. 
Many Moods of Ballet
In the video below from Brigadoon, Gene Kelly dances with Cdy Charisse.  Charisse was born to be a dancer. She spent her early childhood taking ballet lessons and joined the Ballet Russe at 13 and toured with the company in the U.S. and Europe.